Cycling Weekly item reproduced below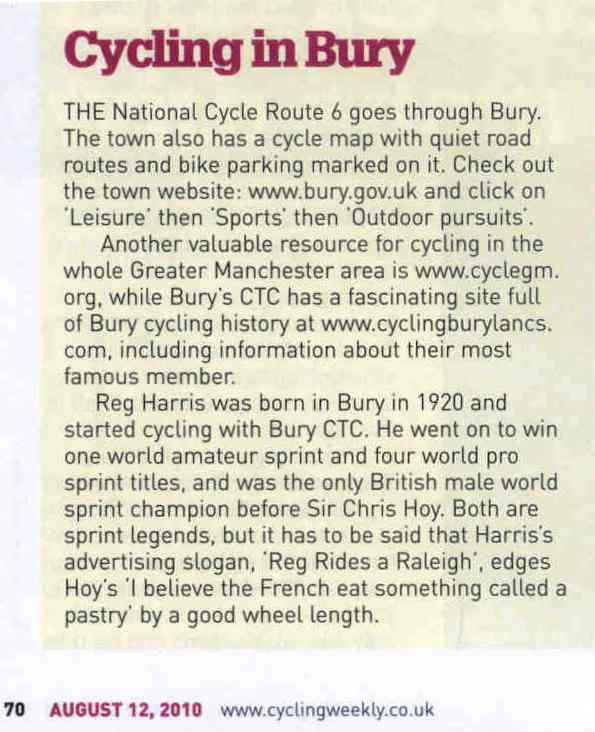 New Club Status
Following a unanimous decision by show of hands at our AGM on 10.11.08 we are now officially an 'Informal Group' of the CTC. No change as far as membership benefits and cycling is concerned. Just less bureaucracy. We are still part of Manchester DA (now known as Manchester & District CTC), but the Section now exists only to hold rides - there is no need for formal meetings or Annual General Meetings. We will be continuing with our quarterly evening meetings at the Trackside for compiling the runs lists, discussing cycling issues and for general socialising.
Man U on bikes
Here's one for Brian Richards and Terry Hodges. This classic ad turned up recently. Can you imagine Rooney et al promoting cycles?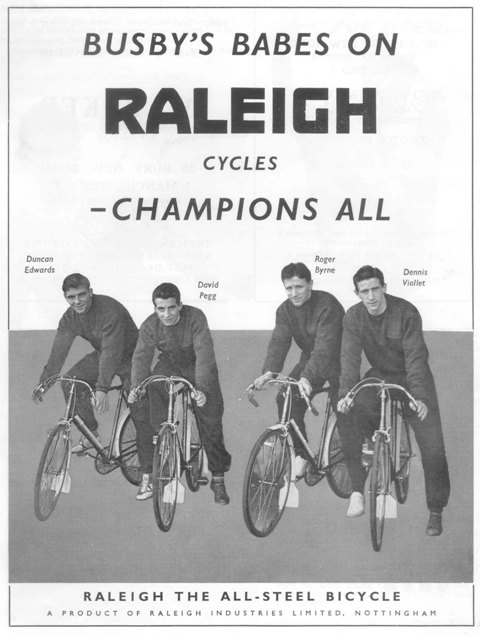 Message received from Bernie Friend on Tuesday 6 May 2008
Hello fellow Cycling folk,
I have just written a book about my cycling trip around the North Sea Cycle Route to raise money for Cancer Research UK, after losing both my mother and mother-in-law, who both only in their Fifties, to brain tumours within just 12 months of each other. I made the trip as a tribute to them and to beat my own fears and travelling phobias. It really was two wheeled therapy all the way as my inner and outer journey introduced me to random, but amazing people who helped put a smile back on my face again. If you could help me by giving me a mention somewhere on your websites or club newsletters, it would be greatly appreciated! I have also attached some other information and an image of the book jacket cover! Thanks for listening, Bernie Friend
CYCLING BACK TO HAPPINESS - ADVENTURE ON THE NORTH SEA CYCLE ROUTE by Bernie Friend
'Don't let your biggest fears stand in the way of your dreams, even if your biggest dreams happen to be your biggest fears.' That was exactly Bernie Friend's attitude when he ditched medication and group therapy to overcome a very unwanted companion - paranoia. A complete novice to long distance cycling, Bernie confronted many demons on his epic journey - a coastal cycle route which circles 6,000 kilometres of the Netherlands, Germany, Denmark, Sweden, Norway, Scotland and England. Arm wrestling drunken trawlermen, a geriatric half marathon, Viking bring-and-buy sales, decapitated pirates, burning witches, Shakin' Stevens mega mixes, sea crossing motorways, walking sand giants and remote islands which most people can't even be bothered to mark on a map are just some of the secrets coughed up by the North Sea Cycle Route. Michael Palin and Bill Bryson watch out! Bernie's very personal story told in an easy-going travelogue style will have you hooked from start to finish. Hugely entertaining and downright inspirational! Published by Pen Press (ISBN 9781906206710),
Cycling Back to Happiness is available to buy and order in all book stores across Europe, or on www.amazon.co.uk, www.waterstones.com, www.sustransshop.co.uk and through info@penpress.co.uk www.berniefriend.com
2008 Easter Tour
We were in North Wales in 2008, based at Betwys-y-Coed Youth Hostel. Numbers were down on usual and unfortunately we do not have a report to post.
2007 Easter Tour
The 2007 tour was based around Melrose Youth Hostel. Melrose sits in the centre of the Scottish Borders country. Nigel Hood has posted some photos on the Webshots website. To view them click on the link below:
http://cards.webshots.com/invite/pickup/130100791RVwP/album/558769501Twwhwh