A short history of Bury Section of the CTC
INTRODUCTION
The Cyclists' Touring Club was founded as the Bicycle Touring Club in 1878. It adopted the name Cyclists' Touring Club in 1883 and was incorporated in 1887. It was initially governed by an executive committee of four vice-presidents and had about fifty members. By 1880 the club had three thousand members and by 1886 some 21,000 members. Membership peaked in 1899 at 60,449. The club promoted cycling, organised rallies and produced guides and maps for members. It continues to champion cyclists and cycling.
The CTC is a founder member of the Union Touriste Internationale and is divided into regional District Associations with each DA broken down into local Sections. When a group of Bury cyclists decided to start their own Section in1929 – Bury Section – they became part of the Manchester DA.
In the early years, each DA had its own identifying shirt colours – Manchester DA's was green. We doubt whether Bury Section members ever wore these colours.
As far as we knew until recently, the first cycling club formed in Bury was Bury Clarion Cycling & Athletic Club way back in 1901. Having long since celebrated their centenary, the club is still going strong. Subsequent research has shown that in 1893 there were five cycling clubs in Bury - Bury CC, Elton, Excel, Chesham and Hollins - and Bury's first cycle shop, that of Mr Franklin Booth, opened around 1881 and was located on the corner of Eden Street and Rock Street (now The Rock).
In later years there were other cycling clubs in the Bury area but many have long since vanished; clubs such as Irwell Valley Road Club, Zephyr Road Club, Ramsbottom Wheelers, Radcliffe Excelsior, Prestwich Phoenix.
We can only assume that a CTC Section was formed to cater for those who mainly wanted to tour on their bicycles (or did not have the Socialist ideals that the Clarion then had). CTC members who wished to race in those days used to race in the name of the Lancashire Road Club which at that time was an offshoot of the CTC.
A group of Bury CTC riders pose for a photograph during a tea stop in Whitewell (1930s).
A group of Bury CTC and Clarion riders pose for a photograph outside Clarion House near Roughlee on the occasion of the installation of the Charlie Westlake memorial seat in 2003.
BURY CTC 1929 – 1950
As previously stated, Bury Section was founded in 1929. Club records up to 1950 are scanty, but thankfully from Bury Times cuttings, old photographs and older members' reminiscences we can piece together how it was. The earliest printed reference found is in an issue of the CTC Gazette from 1934 where the secretaries are listed as Bob Chalmers and Les Priestley. Jimmy Allen who died in 1998 (pictured second from the left in the old photograph above) was a founder member.
Meeting places at that time were the Peel Monument or, later, outside the Art or Odeon cinemas.
Some of the other names from the very early days which have been encountered in research are Harold Jay, Edgar Whewell, Billy Nuttall, Jimmy Battersby, Harry Brown, Fred Smith, Frank Haslam, Frank Dickinson, T. Patton, John Murty, Jack Whitehouse, Fred Howarth, George Pickup and Harold Broughton.
Cycling in and around Bury years ago wasn't easy due to the many cobbled streets. Clarion rider Frank Jefferson recalls that after riding up a cobbled Ainsworth Road a stop was made at the top to tighten up mudguards loosened by the jarring.
BURY CTC 1951 - PRESENT
Again, there are large gaps in existing records. Minutes books from the 1960s and 1970s seem to have been lost. This section begins with a summary of early club officials taken from the Club minutes. Club activity ceased in 1940 until the Section was reformed in July 1946 after the war.
Club Chairmen and Presidents
The Chairman from 1951 until 1958 was another thirties rider Gilbert Hindle. In 1958 Gilbert retired to emigrate to Australia. On his departure it was Jimmy Graham who moved from Vice Chairman to Chairman. In 1959, Ernest Mole, previously Social Secretary, became Vice Chairman, eventually becoming President in 1962 - a post which he held until 1979.
The office of Vice Chairman seems to have been introduced in 1956 and this role was taken by Ron Cassidy who eventually became Chairman in 1959 and 1960. The position of Chairman was abolished in 1961 and in 1962 Ernie Mole became the section's President. It was not until 1979 that the position of Chairman was reintroduced with Jim Holden taking office at that time, with Ernie Mole remaining as President but with no need to run meetings. Subsequent Chairmen have included Phil Rigby and currently John Butterworth. Charles Westlake was elected Section President in 1994. Since his death in 2001 the Section has not had a President.
Secretaries
Walter Pilkington was Secretary from 1951 to 1955 and was still holding office in the section as President until the mid 1990s when he retired from club life. Pete Graham was elected Secretary in November 1955 but was called up for National Service the following month. There followed a period of change when the job was taken by A Wood, Bob Cassidy, W G Fargher, P Brierley, J R Cannell and S L Lowe before a period of stability brought in by Derek Pritchard in 1964. Derek was to be Secretary for ten years until Jean Mole took over in 1974. Jean held office until Lyndon Everett succeeded her in 1979. Subsequent Secretaries have been Jim Holden, John Crossthwaite, John Butterworth and lately, Steve Willetts.
Ernie and Jean Mole
In one of the darkest moments of the Section's history, this very popular couple who were married in 1967 were tragically killed on the 7th May 1984 whilst riding their tandem on the Edenfield by-pass. They were riding towards Rawtenstall near Church Lane Bridge when they were struck by a Bedford van. Ernie and Jean are pictured below.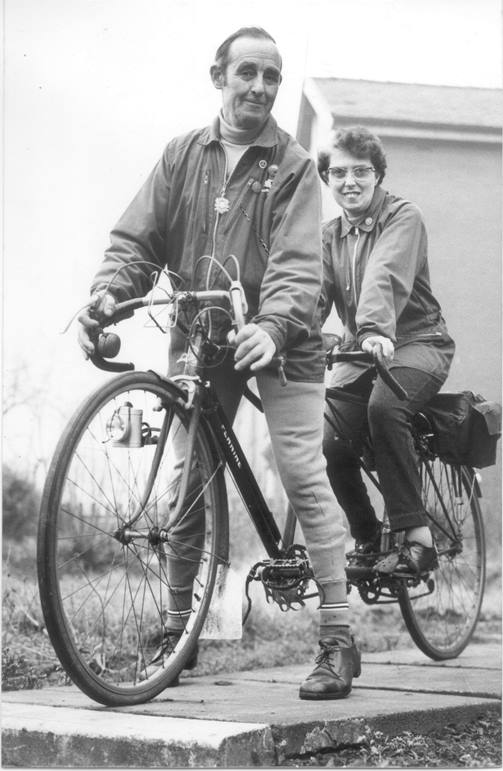 Other club tragedies which have come to light in research were the death of Derek Hill who fell whilst climbing on Ben Nevis in Spring 1958. The Map Reading Trophy was subsequently named in his memory. Another climbing accident claimed the life of member Ron Howarth who died on Scafell in 1962.
RELIABILITY RIDES
COAST-TO-COAST
There have been various reliability rides over the years, with one of the most popular from 1958 to 1966 being the Coast-to-Coast. The was first held on 3 - 4 May 1958. The ride started at Walton Bridge, Preston at 9am and riders were to report to the timekeeper at Scarborough GPO between 9pm and 9.30pm. Riders could choose any route they pleased, but they were given a recommended route on which there were two feeds - at Glusburn and Tadcaster. Riders were to start in small groups (not more than six) and the entrance fee was two shillings (10p). CTC colleagues in Scarborough offered overnight accommodation.
ALL NIGHT RIDE
In 1962 an all night ride was organised departing from Bury town centre at 10pm. The route took in Ingleton and Stainforth.
24 HOURS RELIABILITY RIDE
The 24 hour reliability was popular for many years and was last held in the nineteen eighties. A report from the Bury Times in June 1982 gives a feel for what it was like:
Midnight Marathon – Bury Times June 1982.
It was the big one for Bury CTC riders last weekend, namely the 24 hour Marathon Ride, during which time we were faced with 230 miles of undulating country, much of it in pitch blackness.
Eleven cyclists gathered at Holcombe Brook late Saturday afternoon, a larger turn-out than on previous occasions, and the usual route to Settle was taken arriving there some 21/4 hours later.
We decided to press on through Clapham where we knew there was a 'Little Chef'. Unfortunately we didn't know if it would be open, but our luck held and we partook of a good supper. This stood us in good stead for the following miles to Sedburgh, where we waited a while to close ranks.
The next few miles to Kirkby Stephen were hard for the tandem which was off the back most of the way. But at least the stragglers were kept company!
We took over the shelter in the square, got out the Primus and chatted with a friendly policeman who remembered us from last year. The hot tea worked wonders, but couldn't revive Ernie sufficiently to encourage him to continue with us, as he was suffering with cramp and decided to take the shortest route home.
We now stayed together and rode to Nateby, but the 1 in 5 hill up to Birkdale Common had us walking and as we reached the top the cloud-filled sky started to lighten, heralding the coming of a brand new day. We were soon able to dispense with lights and rode through a grey and misty Swaledale where sheep and rabbits scampered from under our wheels and a dawn chorus lent music to our ears.
Out came the primus again at Muker, tea and hot soup reviving flagging spirits for the run into Masham, just as the sensible members of the human race were arising from their beds! Ten miles to Ripon, said the signpost, but never in our wildest dreams did we expect to find a café open at this unearthly hour, especially on Sunday, but there it was! Masses of egg, bacon, sausages and tomatoes were wolfed down, making new men (and women) of us.
Charlie Westlake was setting a sensible pace with Anthony, Andrew, Mark and Linda keeping him company. Darren and Ean were flagging a little on the hills, as were Derek and Jim on the tandem.
A stop to remove waterproofs proved the tandem's undoing as a fragment of glass was picked up in the tyre, resulting in a flat six miles from Harrogate.
The ride over Blubberhouses was easier than expected due to a strong tailwind and, of course, the refreshment van at the top was patronised. It should have been a good ride down to Bolton Abbey but the heavens opened, we had to hang on to the brakes, and it was a bedraggled crew who walked into the café for dinner.
We were on home ground now and it was strangely easy on the remainder of the ride as we realised with elation that we had completed successfully our own cycling marathon.
Riders successful at 24 hours and 230 miles were: Anthony Warburton and Derek Pritchard; Andrew Smith and Martin South; Darren Stephens and Ean Gill; Jim Holden, Charles Westlake, and that brave girl Linda Kay, mixing it with the lads and coming out on top!
-- J.W.H (Jim Holden)
200 MILES RELIABILITY RIDE
Instituted by Charlie Westlake in the early nineteen nineties as a replacement for the no longer supported 24 hours event, this arduous ride started out at 4.30 am on the Sunday nearest to the longest day of the year. The time allowed was 18 hours including stops.
The route was out through Rochdale to Littleborough and over Blackstone Edge to Halifax. Continuing through Morley, the first stop was at Selby. Flatter roads took the riders to Hull and a crossing of the spectacular Humber Bridge prior to the return via Scunthorpe, Doncaster, Barnsley and the climb to the Woodhead Pass before the descent to Hollingworth and a welcome call at Charlie's daughters house for a brew (and sometimes a brief nap).
The last leg of the ride was through Stalybridge and Ashton to Bury. The event was only run for a few years but it was publicised along with our other longer reliability rides in the 'Long Distance Cycling Events in Europe' Annual published in Germany. Alas we did not attract any continental riders.
150 MILES RELIABILITY RIDE
The first 150 miles in 12 hours reliability ride on record was held in 1955 starting from Bury town centre with the turn at Windermere railway station and the finish at the Jolly Carters on Bolton Road. There was a feeding station at Brock.
In 1965, the 150 miles in 12 hours route was Bury, Whalley, Gisburn, Skipton, Gargrave, Settle, Ingleton, Kendal, Lancaster, Preston, Chorley, Bolton, Bury.
Sadly, this main road route became too busy, and the route was changed some years later to Bury, Burnley, Nelson, Gisburn, Settle, Hawes, Sedburgh, Kirby Lonsdale, Lancaster then as before to Bury.
OTHER RELIABILITY RIDES
After the loss of the 24 hour event, seven reliability rides used to be held annually with a shield awarded to those who completed all of them in one season. All finishers of any reliability ride within the allowed time received a certificate.
Other Reliability Rides held have been as follows:
50km in 3 or4 hours
100km in 7 hours
150km in 8 or 9 hours
200km in 10 hours
50 miles in 31/2 or 4 hours
100 miles in 7 or 8 hours
150 miles in 12 hours
200 miles in 18 hours
Above: One of Charlie Westlake's many reliability ride certificates; this one possibly for the ride reported below.
It is hoped that one day there will be sufficient rider support and organiser volunteers to re-start the reliability rides.
In the sixties, the 100 miles ride was considerably hillier than the current route.
A report from the Bury Times illustrates this point:
Bury Times (Date unknown c.1963)
The reliability trial which covers 100 miles of quite hilly roads, on Sunday tempted 16 members to spend one shilling and have a go. The course follows the main road to Hebden Bridge, a steep climb over Long Causeway to Burnley, and so to Padiham and Sabden. A series of short sharp hills in this area culminates with the ascending of Blacko to Gisburn, one of the checkpoints.
Jim Hamer did a good job of time-keeping and checking, but unfortunately had no influence on the weather which started poor and deteriorated rapidly. On the higher section competitors were riding completely shut in by mist or cloud with visibility down to a few yards. Following a short stop at Gisburn, heavy rain and a head wind had to be negotiated on the only more or less level part of the route through Whalley, Mellor Brook and Walton-le-Dale.
Back to the hilly country, Belmont took it's toll of riders who hadn't already called it a day, and further hills near Turton, Edgworth and Hawkshaw were ridden. The finish at Mrs Anderton's meant the last and perhaps most painful climb up Holcombe Hill.
Our friend from Bury Clarion, Charlie Westlake, of notable reputation in this type of event, finished first followed in order by WN Pilkington, P Brierley and Alan Tinker. Stephen Tinker, considerably short of miles scraped inside the time limit by as little as 15 seconds. Ernie Mole and his nephew both rode this event. Uncle just made the finish in time, the nephew retired at Gisburn
- W.N.P. (Walter Pilkington)
Extreme weather conditions are nothing new in this part of the world. Here's a report of the 150 miles reliability ride of 1982:
Bury Times (June 11th 1982)
Nine beat floods on reliability run
The hot weather was still with us, and this was our main worry as we left Bury on the 150 mile Reliability Ride, but before the day was over we were praying for sun!
The early stages were taken at a nice easy pace which hotted up somewhat before Accrington, resulting in a couple of riders dropping out.
We had decided it was going to be hot and humid, not ideal conditions for long distance cycling so we wanted to get as many miles in as possible before the sun really started burning.
We hurried along the Whalley/Clitheroe by-pass, then into the lanes near Sawley, still quiet and traffic-free at this time of day.
We stopped for elevenses at Settle, allowing the party to regroup before pressing on along the hardest part of the route so far – through Horton-in-Ribblesdale and up to Ribblehead.
Now the sweating started as we toiled up to Newby Head with the sun beating down, but as we free-wheeled down to Hawes, there didn't seem much danger from the dark cloud over to our left.
It had been quite easy so far, we were well in front of schedule, and we enjoyed our lunch. Imagine our amazement on emerging from the café in to rain!
The weather had made a complete about-turn and that small dark cloud had expanded with amazing rapidity to cover the sky from horizon to horizon. Thunder rolled, lightning flashed and we were faced with the grim prospect of riding almost 100 miles in it!
As we approached Garsdale Head we encountered conditions the like of which we had never seen before. A small beck on the hillside had been transformed into a raging torrent, the road bridge couldn't cope and we were faced with a muddy, roaring river across our path!
Any delay could have made it completely impassable, so we swooped through it, getting thoroughly drenched in the process, but the road beyond was a river. Large stones had been washed into our path and most motorists had stopped at the side of the road.
Somehow we got through on to roads which were still dry, the rain having been outpaced. This obviously was not going to be the case for long and as we rode along Garsdale we kept hitting heavy downpours.
The bad conditions had sapped our energy and we were glad of a stop at Kirby Lonsdale where vast crowds of trippers stood between us and the much-needed tea caravan. This was where the weather came to our aid. The storm broke, the crowd scattered and we got served – we didn't worry about the rain, we were soaked already!
Lyndon's efforts at mending a wet tube didn't meet with much success and in true CTC style we left him to it for the wet ride down to Lancaster and a horrible A6, full of motorists retreating to their homes, one of whom very thoughtfully did a u-turn right in front of us nearly causing a pile-up.
We had given up on the weather even though Derek, optimistic as ever, had been forecasting an improvement. This quite unexpectedly arrived at Garstang as we entered the café and the last few miles home over Belmont were enjoyed in warm sunshine, rounding off what had been an eventful day!
Nine riders were successful, those being Duncan Dollimore, Darren Stephens, Andrew Smith, Charlie Westlake, Jim Dawson, Jim Holden, Derek Pritchard, Anthony Warburton and Lyndon Everett.
Reliability rides have in the main been all male affairs. However, this was not always the case. A prime example is Carol Duffin who, in 1981, became the first lady to complete all four reliability rides (50m, 100m, 150m and 24hours).
1930s CLUB RUNS
The following article gives an idea of the atmosphere of a club run in the early days of the Section:
Bury Times (January mid 1930s - date unknown)
Last Sunday morning at 9.15 the weather was glorious, and typical for the time of year, and those who could perceive the slight nip in the air thought it ideal for our pastime. So ten strong we left the centre and rode southward. Not many miles had been covered before we were shrouded in thick fog, which completely obliterated the landscape until Cheadle was reached. Here Old Sol shone on us again, and we could see the countryside, covered with hoar frost. Passing through Handforth and by the winding lanes to Macclesfield, and then a slow but steady climb up to Sutton and Throstle's Nest. Dinner over, an inviting case-ball drew us into a meadow, and an energetic game took up part of the afternoon. Mounting again we climbed up to Clenrow Cross, bearing to the right, and a swift freewheel, past the empty Macclesfield reservoirs, and towards Leek, but we turned right near Rudyard Lake for tea at Rushton. The moon was doing its best to make it like day as we made our way homeward through Bosley, and the "Cloud" could be plainly seen on our left, but as we neared Stockport a ground mist blotted out the grandeur of the heavens. This turned to a thick fog as we rode through Manchester, but as usual we left the fog in the city, without a pang, and rode from Prestwich in the moonlight again.
Tomorrow (Sunday), invitation run. Leader, T. Patton. If you haven't started cycling for the new year bring out the old steed and come round the Fylde lanes with the lads. We start at 9.15am from the Peel Monument. H.B.
10 MILES TIME TRIAL
An event long lost to the Section, no doubt mainly due to increased traffic, is the 'ten' – a 10 mile time trial from Walmersley to Rawtenstall and return. The course record holder in 1951 was Peter Graham with 23 minutes 42 seconds.
By all accounts this was a very popular and well supported evening event. The start (and finish) was at Rowlands Road, Walmersley, then up through Shuttleworth and Edenfield, with the turn at the hill sign just before the descent into Rawtenstall. The event ended in 1963 following an accident involving a rider.
PATELEY BRIDGE (Last Sunday in January)
This special ride began as a Bury Clarion fixture back in the early sixties when Alan Johnson rode down from Middlesbrough to meet his friends from Bury and especially his future wife, Marina. Pateley Bridge was chosen as a convenient half-way meeting place. Ever since those days the ride has maintained a tradition and many cyclists have done the ride always held on the last Sunday in January, As can be imagined, the weather conditions on that date are almost always unfavourable for such a long ride, but Charles Westlake always completed the ride – sunshine or snow - every year until finally giving up in 1995 – he tired of riding it alone.
DA NAME
In the 1930s, Bury Section was part of Manchester DA. When the Section was reformed in 1946 it became part of Bolton DA until at a meeting on 3/9/56 it was suggested that the name of the DA should be changed to Mid Lancashire 'on account of the proceedings at York Rally'.
Ron Cassidy proposed that this should happen on 1/10/56. The DA name was duly changed to Mid Lancashire.
At the club meeting of 6/4/75 the proposed amalgamation of Bolton and Bury sections into the Manchester DA was rejected. This eventually did happen twenty years later.
CLUB MEETINGS
Club meeting were mainly held at member's homes. Outside venues have included Mrs Andertons at Holcome, Ivy Cottage at Baldingstone, Waterloo Hotel, Taskers Dance Hall, Bridge Inn at Heap Bridge, Robin Hood and the Old Blue Bell.
CLUB SOCIAL LIFE
In times past the social calendar seems to have been reasonably full. Dances were held at the Bury Palais de Danse, the Derby Hall and the Masonic Hall with dancing to outfits such as the Casino Players, Casino Dance Orchestra, Ted Tweedale Quartet, the Metronomes Dance Band and the Skyliners Dance Band.
The regular source of income from dances held at the Palais ended in 1969 with its demolition. Castle Leisure Centre is now occupying the site.
Dinners, usually combined with the AGM, were held at the Royal Hotel, Old Boars Head Hotel, The Old Duke Hotel in Brandlesholme, Pack Horse Hotel, Manchester Road and Halloween Parties at Mrs Anderton's, Holcombe Village.
In the 1970s dances were held at The East Lancs Paper Mill Social Club in Radcliffe until that venue became too expensive. Taskers was used in the early eighties.
At the Annual Dinner in 1960, 'The Golden Girl of Cycling' Miss Mavis Madely (an Oldham Section member) was asked to be Guest of Honour. The title 'Golden Girl of Cycling ' was won by Mavis at that years York Rally.
A photograph shows a group from a Club Dinner in the early 1960s showing Mrs Ethel Baxter presenting a small trophy to A Stalker with, in the background from left to right, Roger Gaines, Derek Pritchard, Walter Pilkington and Ernie Mole.
In 1959 a Bury Times report ended with a trip announcement: "The coach for 'Can-Can' will leave The Wylde at 6.30pm tonight (Saturday)". And in 1961 a cinema trip was organised to see the blockbuster epic 'Ben Hur' at the Gaumont in Manchester.
A major social event was held on the 7th November 1979 at the Lord Raglan, Nangreaves on the hills above Bury. This was the Golden Jubilee Year Dinner and the guest of honour was past member Reg Harris.
The photograph below shows Reg at the function perched on the saddle of a vintage Dursley-Pedersen with, from left to right, Walter Pilkington, Ernie Mole, Frank 'Ab' Haslam, Billy Nuttall, Frank Dickinson and Harold Jay. The vintage bike belongs to Walter.
REG HARRIS 1920 - 1992
Without doubt the Section's most famous past member is Reginald Hargreaves Harris known to everyone as Reg. Reg was born at Birtle in Bury in March 1920. He joined the CTC in 1935 and rode with his pals of those days Billy Nuttall and Jimmy Battersby.
At only 15 years of age Reg came second in the 1935 Beard Cup Hill Climb held at Thursden Bank only 1/5 second behind the winner. Bury section was fastest team; the team being Jimmy Battersby, Reg Harris and John Lucas. They were riding under the Lancashire Road Club banner, but in those days that club was an offshoot of the CTC.
More can be read about Reg's early days in Bury in his 1976 autobiography 'Two Wheels To The Top' and an excellent biography 'Reg Harris' by George Pearson of 'Cycling' published in 1950 (see cover below). See also the separate 'Reg Harris' and 'Reg Harris Photos' pages on this website.
Reg of course won five sprint world track championships in his illustrious career: the Amateur Sprint in 1947 and the Professional Sprint in 1949, 1950,1951 and 1954.
See the separate section of this website for a fuller story of Reg Harris.

CHARLES HENRY WESTLAKE 1923 – 2001
See the separate section of this website for the life of this legend of Bury cycling.
ANECDOTES
Past (and present) club competitions have included a Scavenger Hunt, Map Reading Competition, Speed Judging Contest, Tourist Quiz, Freewheel Competition, Hill Climb and Photographic Competition.
A Bury Times report from (probably) 1960 gives details of a typical Map-reading Competition:
Bury Times (date unknown c.1960)
Despite inclement weather on Sunday morning, a large group of CTC members left Bury for the afternoon's annual map-reading competition at Pecket Well. Our route through Rochdale and Todmorden soon brought us to Hebden Bridge and the long climb up Cock Hill. But the sweat and toil was well rewarded at the top, when we tumbled into Mrs Crabtree's for her famed stew and dumplings lunch.
At 2pm the first group of riders set off on the 20 mile map-reading course and was followed at intervals by the other riders. The course itself encountered Hebden Bridge and Heptonstall and followed the road which climbs above Hardcastle Crags through Slack and on to the narrow switchback road over Widdop Moor. Halts are necessary at various places in order to trace the clues and answer questions on the surrounding countryside and map symbols.
The route continued down the hair-raising descent of Widdop into Thursden and Haggate and on to the finish at Hurstwood for tea. The competitive spirit and enthusiasm was particularly displayed by one competitor, who having missed a clue on Widdop and descended into Thursden, made the gruelling ride several miles back to find it, with the result that he did not finish the course until 8.30pm. The ultimate winner was Miss Norma Saunders.
And Finally
Hill Climb venues have included Ramsbottom Rake (1952,1953,1959,1961), Pecket Well (1965), Nick o Pendle (1954,1956,1957), Sabden (1958), York, Whalley (1976), Roughlee (1977) and more recently Affetside.
According to club records, the 1952 Hill Climb on the Rake on 15th June was won by P Graham in a time of 1min 44 secs with Walter Pilkington second with 2mins 2secs. This must have been a shorter course than the current Lancs RC event. Best club members in the 1950s have included Jack Wood (1952/53), Ernie Mole (1954/56/57), and Derek Hill (1955).
It was noted in the minutes of a meeting held on the 1st October 1956 that the speed of runs is too fast! (Some things never change.)
On the 29th April 1973 it was agreed to cancel club runs until the 24th June owing to the lack of leaders and support.
During a club run on 31st March 1957 a junior member lost a finger while attempting
to touch his chain when riding a fixed wheel. Who is he? Where is he now? It is reported that a group of Blackburn CTC riders accompanied him to the hospital.
Bury Section used to organise local National Cycling Proficiency Test courses. An old cutting from the Bury Times shows Walter Pilkington with a group of keen young pupils.
There used to be CTC Bury Section Map Library, located at 52 Moorgate, for the use of all members. Cost per map hire was 2d.
In October 1967, a letter was received from Manchester DA regarding the re-launch, after 30 years, of 'Northern Wheel' the DA magazine and whether anyone would be interested in buying it.
For more photographs, go to the 'Photo Gallery' page.
THE PRESENT DAY
The writer would like to complete the history and indeed fill out any missing details with a view to publishing a complete version in the future.
If any reader has any information or photographs, or has recognised any errors in this text, please contact John Butterworth by email - butterworth.john@talk21.com
or telephone 07963 701799.