This list is incomplete. Please notify any changes or additions. 
If intending to visit Belgium, scroll down to the bottom of page for details of a great cafe and overnight stop near Ypres.
AIRTON
Town End Farm, Scosthrop, Airton, Skipton, North Yorkshire  Tel: 01729 830902
BEACON FELL COUNTRY PARK
Cafe
BELMONT
Black Dog Pub, Belmont Village  

BRETHERTON
Billy's Tea Room (and antiques shop)  

CATFORTH
Roots Cafe, Blackleach Farm, Roots Lane, Catforth, PR4 0BJ
Tel: 01772 691866
Open Wed – Fri 10am – 3.30pm, Sat and Sun 9.30am - 3.30pm
CLAPHAM
Croft Cafe, Clapham, North Yorkshire

The Reading Room Cafe Bar and Clapham Bunk, The Old Manor House, Church Avenue, LA2 8EQ
Tel: 015242 51144
Cafe open 10am - 4pm every day.
CLIVIGER
JJs Diner Cafe, Burnley Road, Cliviger. Highly recommended.

CHIPPING
Cobbled Corner Café, Chipping  

CRACOE
Cracoe Cafe
CROSTON
Cafe Rendezvous, 24 Town Road, Croston
Tel: 01772 601927
Mon – Fri 9am – 5pm, Sat 10am – 5pm, Sun 11am – 5pm
DAISY NOOK GARDEN CENTRE
Failsworth
DELAMERE
Station Café, Delamere, Cheshire 
DOWNHAM
Downham Post Office,
Village Shop and Tea Room
01200 441242 
DUNHAM MASSEY
Redhouse Farm Tearooms, Redhouse Lane, Dunham Massey, Altrincham
Tel: 0161 941 3480
Open Mon – Sat 10am – 4pm, Sunday 10am – 3.30pm
DUNSOP BRIDGE (pictured top)
Puddleducks Cafe Post Office, Dunsop Bridge  
Closed Mondays
ECCLESTON
Delph Scuba Diving Centre, PR7 5PR
ENTWISTLE
Strawbury Duck, Entwistle Tel: 01204 852013 (Spelling as per pub sign!)
FORTON
JC's Coffee Shop
GARGRAVE (pictured top) 
The Dalesman Café, 54 High Street, Gargrave 'The Gateway to the Dales', North Yorkshire  
Tel: 01756 749250  Closed Mondays

GLASSON DOCK (pictured top) 
Lantern O'er Lune Cafe
GLOSSOP
Cafe
GRASSINGTON
The Retreat Cafe and Tea Rooms, 14-16 Main Street
Tel: 01756 751887
e-mail [email protected]
http://www.theretreatcafeingrassington.co.uk/
Vegetarian and Vegan cafe
Gluten free cakes and meals

GREAT ECCLESTON
Cafe
HAIGH HALL
Café, Haigh Hall Country Park, Aspull, Wigan
HAWES
Pen-y-Garth Café, Main Street, Hawes, Wensleydale  
HAWORTH (pictured below)
Café 52, Haworth Main Street (NOW CLOSED, BUT OTHER OPTIONS)
HEBDEN BRIDGE
The Cabin Cafe
HORBURY
Connie's Cafe, 228 Bridge Road, Horbury nr Wakefield WF4 5PT
Tel: 01924 283700
HORTON-IN-RIBLESDALE 
Blind Beck Tearoom, Horton-in-Ribblesdale, North Yorkshire  
HOLMFIRTH
Cafe
INGLETON (pictured below)
Bernies Cafe
KIRKBY LONSDALE
Tea Caravan, Devil's Bridge, Kirkby Lonsdale, Cumbria  
KNOTT END
Knott End Cafe, Bourne May Road, Knott End-on-Sea, FY6 0AB
Tel: 0871 963 1926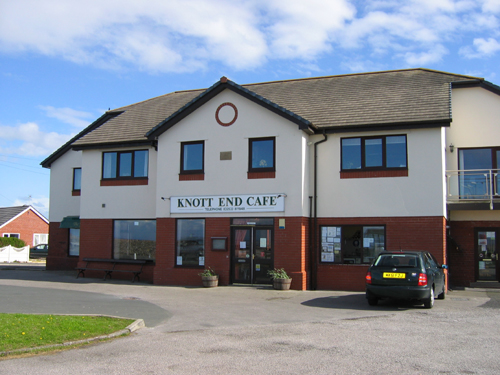 LANGSETT

Bank View Café, Langsett  Tel: 01226 762337

Owner: Pete Sparks. http://www.bankviewcafe.co.uk/ 

 

LITTLEBOROUGH

The Square, 32 Church Street, OL15 9AA (formerly Upstairs, Downstairs)

Tel: 01706 376844


LONG PRESTON

Post Office Cafe (sadly closed down on last visit). Nearby Hellifield Station café available.

 

MALHAM

Old Barn Cafe, Malham,

Tel: 01729 830486

 

MARSDEN

Cafe

 

NEW MILLS

Cafe

 

NORDEN
Millcroft Tea Gardens, Hutchinson Road, Norden, Rochdale  Tel: 01706 642054/523961

Open Sundays and Bank Holidays from Mothers Day until the end of October.

 

OWD BETTS 

Pub and Tea Van, between Edenfield and Rochdale

 

RIBCHESTER

St Winifred's Church Hall (Sundays) 

 

RIVINGTON

Old Chapel Tearoom and

Rivington Barn  

 

ROUGHLEE

Clarion House, Jinny Lane, Roughlee.  

Bring your own food!  Weekends only. Manned by volunteers

 

Noggarth Top Farm, Noggarth Lane, Roughlee.


RUFFORD

Owd Barn Country Store and Tearoom.  

Spencer's Farm, Rufford Road, L40 3SA. Tel: 01704 823435

Open 10am to 5pm (except Monday)

 

SCORTON

Priory Cafe  Open 7 days

The Barn, The Square, Scorton, Near Garstang, Preston. PR3 1AU   Tel: 01524 793533

SETTLE

Settle Down Café, Main Street   Closed Wednesday PM

The Singing Kettle, Main Street  Tel: 01729 823125

 

SLAIDBURN

Riverbank Tearooms, The Green, Slaidburn

Tel: 01200 446398  www.riverbanktearooms.co.uk

Joe Clarkson

Open daily 10:30am - 5:30pm, licensed.

 

SOWERBY BRIDGE

Cafe

 

TOCKHOLES

Vaughn's Cafe, Roddlesworth, Tockholes, BB3 0LR 

Open Tuesday - Sunday 10.30am - 3.00pm (can vary). Recommended - great home-made soup. 

TODMORDEN  

Cafe at market  also

Cafe in town opposite market

TYLDESLEY

Heritage Tea Rooms, Dam House, Astley Hall Drive, M29 7TX
Tel: 01942 891910 


UPPERMILL

The Little Shop Newsagent and Café on the main street. Cafe downstairs.

 

WADDINGTON

Cafe

 

WALTON-LE-DALE

Café, near Preston

 

WESTHOUGHTON

Mario's Cafe Bar, 67 Market Street, Westhoughton, Bolton, BL5 3AG.  Tel: 01942 813287

They do (or used to do - please check before visiting) a big breakfast for £10. Eat it all in 20 minutes with no drink to wash it down with and you get it free. It's 10 eggs, 10 rashers of bacon, 10 sausages, 10 slices of toast, 5 black puddings, tomatoes, beans and mushrooms. No Chips !!!  Have a look at the photo below for a proper breakfast.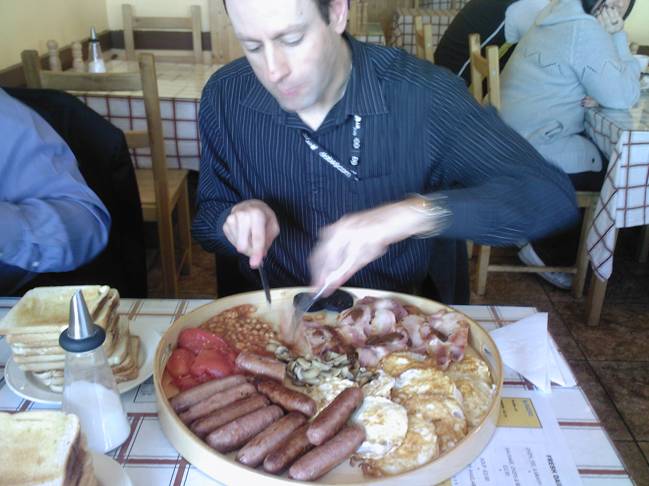 WEST MARTON
Cafe
WHALLEY (pictured below)
Cloisters Coffee Shop, Whalley Abbey, The Sands, Whalley  
No hot food after 3:30pm
STOP PRESS - THIS CAFE NOW MOVED ACROSS THE CAR PARK TO THE MAIN BUILDING.
WRAE GREEN
Dizzy Ducks cafe
YPRES, BELGIUM
If you are in the Ypres area in Belgium please call at the Cherry Blossom Tea Rooms. You will be made most welcome.  We visited on the second day of our Bury to Schorndorf Cycle Tour in May 2006 and were treated very well.  A warm welcome and large portions greeted us.
Liz and Jon Millward head a family run business situated in Brandhoek, Ypres, Belgium. The B&B, tearoom and cafe is now well established. All their food is freshly prepared and Home Cooked (English Menu available). They are on the main Flanders Cycle Route. Photo below.
Cherry Blossom B&B/Tearoom,  Casselstraat 27,  8908 Vlamertinge (Brandhoek), Ypres, Belgium
Tel: 0032 (0)57 301555
Above is the exterior of the Cherry Blossom B&B and Cafe in 2006. Below Bury cyclists enjoy the food and the hospitality in 2006. Owners Liz and Jon are in the background of the picture.