When you see Panerai watches fashioned after their historical predecessors, with fixed bezels and leather straps just like them, do you ever wonder if frogmen really wore the original versions to dive? After all, a rotating bezel and a metal bracelet or rubber strap are now considered essential for a dive watch.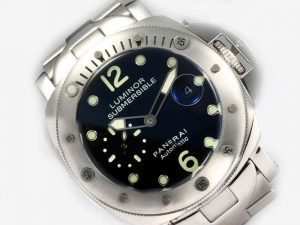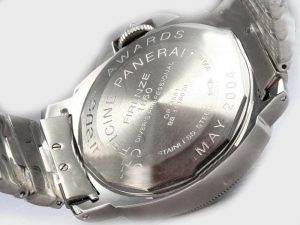 Of course, there is ample evidence that Army frogmen did wear these early Panerai replica watches. But what was their mission like, and how did it feel to be a part of it? We searched for clues with an experienced frogman who is a member of the Historical Diving Society, an international organization dedicated to preserving and protecting diving heritage. He donned an old diving suit and brought vintage gear. He also brought the Panerai Luminor Marina 1950 3 Days Acciaio watch, which looks a lot like a Panerai watch from the 1950s, so we could relive the past era and experience the feeling of the frogmen of yesteryear.
In 1936, Panerai made the first prototype of a dive watch for Italian military divers. Two years later, these watches were called Radiomirs and went into production. In the mid-1950s, Panerai introduced a new version with curved crown protection bridges. This watch became known as the Luminor. until 1993, Panerai sold only to the military. Prior to that, collectors who wanted a Panerai watch had to find one at auction.
The Panerai Luminor Marina 1950 3 Days Acciaio that we took with us on our dive was very similar to its ancestor. Like the original, this watch has a 47mm case with crown-protected bridges. The small seconds sub-dial is also identical to the earlier model: around 1956, Panerai replaced the watch's Rolex manual-winding movement with the Angelus movement, which has no seconds hand and a 36-hour power reserve, while the Angelus movement has a small seconds display and an 8-day power reserve. Although our test fake Rolex watch had a power reserve of only three days, we felt it was sufficient for a hand-wound watch.
The diver who accompanied us on the dive, Jens Horner, is a trained frogman and minesweeper who has set depth records with and without equipment, including a scuba dive to a depth of 240 meters. He has explored underwater caves and underwater shipwrecks. We worked with him and the Historical Diving Society to recreate an unusual scenario: diving with equipment like the military divers of the 1950s and 1960s. Before his dive, he wore our test watch, a Panerai Luminor that matched its historical predecessor in almost every detail.